My BACK. Ow ow ow.
All I want for Christmas is a live-in massage therapist.


For those of you who aren't from around here and don't know the legends: The Harvard library system is like unto Fort Knox. You can't even walk into the main library without a Harvard ID--the Library Privileges Office has its own door from the foyer. Not the lobby, the foyer. Even Harvard professors can't bring guests into the libraries without permission from the Office of the Librarian. When I told friends at Thanksgiving that I was applying for a card, they said only half-jokingly, "Do you have any convictions?"

But Harvard has good reason to be locked down. They have books that exist at only perhaps a dozen libraries in the United States, and those are the books in the open stacks. Some of the Japanese books they hold are on niche topics that are hard to come by in Japan.

To get access, you have to stump the research librarian for your local library system, then convince her to write a letter attesting to her stumpedness. I spent some time with an amazingly patient librarian at the nearby library, spelling search phrases like "Yoshiwara saiken" and "kuzushiji" for her so she could confirm that yes, the Boston system has no copies of 17th-century guides to Japanese pleasure quarters, and no, no other requestable system has them either, and yes, the Harvard-Yenching Library has the only copy in over a hundred miles. She took it seriously; she wasn't willing to send me to Harvard-Yenching unless I'd exhausted all other resources, out of concern that I'd be turned away if she wasn't thorough enough. But I'd been thorough, and she was thorough, and in the end she wrote me a letter. I handed it to a quite genial man who did not, in fact, breathe fire, and who read it and copied my driver's license, then gave me a gratifyingly official-looking library card. It has my photo and a magnetic stripe, because Harvard will go to those lengths even for a three-month temporary pass.

It gets me into all the specialty collections, not just the Asian collections at Harvard-Yenching. I'm going to have a library orgy.

Even though this is a small thing, it feels like validation.
Ladies and gentlemen, I stand before you a new holder of a Visiting Researcher card to the Harvard College Library system.


I went to see Sophie the next day. She was sleek and glossy... and cuddly. That timid cat who was frightened of everyone but me had been replaced by a cat who demanded affection from every primate within reach. Apparently what her little fluffy brain needed was, um, more trauma.

Other cats I've fostered have been similar. At each move--shelter to foster home, foster home to forever home--they've become more open and loving. It's like they needed exposure to change to learn that change isn't bad, or to encourage them to depend on humans more. Cats are indeed attached to familiar locations, but maybe we shouldn't be quite so worried about moving them to new homes.

(Mind you, spending several weeks on the streets in a coyote-infested neighborhood in cold weather is extreme. Not Recommended.)

Miss Sophie beat the odds. Bless the woman who kept her fed and returned her to us. I hope Sophie's new owners appreciate what a wonder she is.
The cold snap reminded me of a piece of good news: Sophie's back! The woman who heads the shelter called me a couple of weeks ago to let me know she'd been returned. She went to ground at the house where she lived until her former owners moved and left her behind. The house's new owner called the shelter: "I think we have one of your cats." She'd been feeding Sophie, and she and Sophie were so friendly that the shelter didn't have to give her a trap to catch Sophie, just a carrier.
Long Live the Queen popped up on Steam, I was flooded with happy late-90's memories of Princess Maker 3. There she was, standing in a low-res picture of her bedroom: My own princess, to raise and cherish, to nurture and guide, to bootstep through classes and forced adventures until she was shaped as perfectly as a bonsai. I was a god at Princess Maker 3. My daughter went on drinking sprees with Satan, worked as a teenaged prostitute, then tidied herself up in time to walk down the aisle with the Prince, aglow in white satin.* I downloaded Long Live the Queen fully prepared to kick pampered princess hiney.

Oh my friends, Long Live the Queen packs a punch like a speeding dump truck.

It's not just that it's more complex, with more skills and subskills, which are affected by a larger number of moods, all of which come with no in-game documentation so that you have to learn by disastrous experimentation. Experienced gamers eat complexity for breakfast. It's not just that the princess starts the game with a mood that gives her severe penalties in exactly the skills you need her to learn. Gamers know the developers hate them and want them to fail. All that is par for the course.

What isn't par for the course is the lack of control. You work and work to get the princess in to a Yielding mood so she can finally start learning Royal Presence skills, and something happens during the week to spack her into a spiral of Willfulness and rage. You draw her out of her depression, and the plot stomps her into the ground. You try to cultivate an attitude of quiet contemplation so she can sit still for two minutes together, and the plot froths her into hyper sparkly glee.

The plot? Yes, the plot. THERE'S A PLOT. WTF is this? I didn't sign up for a plot! THERE'S A PLOT. Long Live the Queen is a visual novel as well as a child-raising sim. For those who aren't familiar with visual novels, they're similar to choose-your-own-adventure books, with some important differences: First, they're written so that you have to play every branch of the plot tree in order to get the whole story. Second, some of the plot branches require you to have foreknowledge of events based on other play-throughs. You need to make choices that look ridiculous based on what your character would know in your current play-through. (This is a radical change from choose-your-own-adventure books, which sometimes punished the player for using foreknowledge.) Third, you're expected to fail. A lot. Your first play-through is a blunder in the dark. Your second play-through is a tad more informed. After a few play-throughs, you're looking for new and interesting ways to fail so you can learn new tidbits.

In Long Live the Queen, you play a 14-year-old crown princess whose father, the Dowager King, has brought her home from boarding school because her mother just died and the princess has a year to prepare before she reaches her legal majority. At 15, she becomes Queen... if she lives that long. Meanwhile, politics are grinding away behind the scenes. Events tick forward every week, whether you're aware of them or not. Your ability to get the necessary nuggets of information and string them together into a coherent backstory makes a huge difference in how quickly you can start acting and not reacting.

Certain events are plotted to happen each week--the arrival of a gift from a suitor, an assassination attempt, a ball. Certain options are available each week--talk to Dad this week to learn a family secret, go to this spot in the castle to learn something useful. There's no in-game warning for any of it. If Dad's been available to talk to for three weekends in a row, you're not given a hint that this week is different from any other week. You wouldn't expect warning of an assassination attempt, but there's almost no warning of planned events, either. If the kingdom holds a ball on the same day every year, wouldn't the princess get more than a week's notice? OF COURSE NOT.

Each event is a test of the princess's skills, but you don't get warning of what skills will be tested, either. And the necessary skills are... random. Early on there's a parade that tests her Elegance, followed the week after by a ball that tests all her Royal skills plus her Conversation (etiquette) skills and some of her political knowledge skills, but if you work on developing those skills, you'll lose multiple chances at economic development and will probably die of an arrow in the lung. If you focus on don't-die-of-an-arrow-in-the-lung skills, the princess is still liable to chorf down a box of poisoned candy. If you manage to avoid both of these immediate deaths, you've probably ignored the social and political skills the princess needs to dissuade the nobility from either sticking her in a dungeon or giving her a sword in the gut.

AAAAAAAAAUGH.

Because of the pattern-breaking assassination attempts, it's not possible to choose a path of development and stick to it. You develop the princess to survive the next assassination attempt you know about, while beefing up the skills she'll need for less immediately deadly challenges in her spare minutes. Each time you get past another assassination attempt, you discover which essential skills you've been neglecting and how the princess will die this time.

I played the game for hours last night, until I lost track of which strategy I was trying. I died. I died, I died, I died. I died so often that I expected the game to start making snarky remarks, but either it's too polite, or the usual game ending is "death." It's a challenging game, in the same way that being tied in a sack and hit with bricks is challenging.

Am I going to play again tonight? HELL YES. I have a bone to pick with some dukes... and the king... and my princess.



* Your daughter could actually be multiple kinds of prostitute if she had enough dance skills, AND she could have a "boyfriend" giving her money on the side. And yes, she could go drinking with the world's Satan-analogue as well. You don't want to know the game endings that followed these choices.


ETA: After further experimentation, I have determined that the correct answer in any situation is, "Burn their face off."

Oh, and take Decoration classes. Seriously. I just lost a princess three times in a row because she skipped ikebana class. She was so powerful that she could burn the whole goddamn army's faces off simultaneously, but she strangled to death because SHE DIDN'T LEARN HOW TO PAINT AND DRAW. RAAAAAAAAAGH.

So far, the essential skills have been:

All Magic skills, attained unreasonably early
All Military skills, the same
Climbing, attained practically in the womb
Accounting, attained before conception if you want your princess to learn magic in time
Decoration
and
Presence

Can't imagine why I'm having trouble with this game. It's all so intuitive.
When the simulation game


"Ohmigod! Bland player stand-in! Stop monologuing and hustle off that historic piece of landscape! That chick will be angry if you're late!"

Uh... Do I care?

"You hated it the last time you were late and made her mad. You're always late! You always make her mad! OMG, she's getting mad RIGHT NOW we are so late we are toasted come on come on come on--"

I'm about to save the universe. I think I can handle one pissed-off dimwit.

"Come oooooooon we are so doomed you're late and you know you hate making her angry--"

So we meander off the historic rock and into town, where we meet every annoying villager stereotype in the Japanese lexicon, all of whom tell me that a) I'm going to make the dimwit angry and b) I'm so lucky she likes me. These two things, they do not work together. It takes ages for me to figure out where in hell the dimwit is, and when I find her, SHE SINGS.

A pure maiden who expresses her heart through song. Magical song, even. There may have been sparkles--DON'T MAKE ME WATCH THE CUTSCENE AGAIN TO CHECK. Oh, honey. First thing I do, after I throatpunch you, is get you hooked on whiskey and cigarettes.

Then the magical singing angry adoring girl-thing reveals that she's... a nanny. A fucking nanny. Not a real nanny, which would be cool, but the sort of joy-killer who insists on coming along on adventures with you to make sure you're okay. Because that's what I need when I go to save the world: someone to make sure I don't bump my knee or say naughty words while I vanquish evil.

Why am I playing this if it's so grim, you ask? Someone once told me the villain was interesting. I'm a sucker for hot villains. But let me tell you, he'd better be damn hot and nuclear levels of interesting.

Now if you'll excuse me, I have a liter of cheap whiskey and a box of Marlboros to buy.
Am trying to enjoy Lunar Silver Star Story, but I kind of want the heroine to die horribly. And take the soundtrack with her.
It didn't help that this period of brainbuzz lasted months, during which I backed out of almost all social contact. On one hand, my friends are sort of, er, selected for ability to tolerate my periods of absence. On the other hand, I think I've forgotten how to hold a conversation.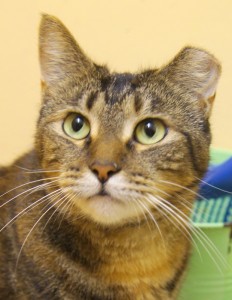 Sophie
In not unrelated news, this Sunday the folks at the shelter I volunteer for told me that Sophie, my last foster cat, escaped the shelter a week ago. The person in charge of the shelter went on vacation a day later, so the shelter was so disorganized that no one tried to re-trap her. I'm trying not to think about how ragey this ought to make me feel because facing those emotions would make the fuse burn out, and I'm out of pennies to stick in the fusebox. Also trying not to crawl into bed and sleep until it all goes away. Last night I was out at 11:30 checking traps; tonight the same; tomorrow the same; and again and again until I catch Sophie.
The brainquiet has set in--that "three o'clock on a rainy Sunday afternoon the day after a sleepless night" exhaustion that drops over everything after a long stretch of brainbuzz. The projects I'm working on aren't done yet, there are several people who need me to be alert and competent, or at least present, and I still have that feeling of, "What am I supposed to do next?" and the desire to simultaneously sleep 12 hours a day and read ALL THE BOOKS that will finally tell me what I need to finish projects and get the brainbuzz back.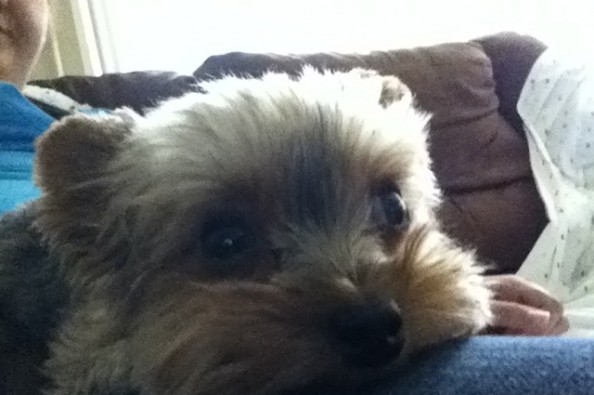 ...a Yorkie who's losing the ability to walk. Mya's owner isn't doing so hot herself, and relies on Mya to keep her going. Surgery could help Mya keep her mobility, but as is the way with Adorable Puppies Who Aren't Doing So Hot, the surgery will be expensive, and Mya's owner can't cover it without help. I'm sharing this in the hopes that some of us will be able to help. If you can't help with money, can you help with eyes and share this around?
This is Mya...
geimei
, an "art name," by which she's known for the whole of her professional life. It's the same principle on which kobuki actors and other masters of traditional performing arts take new names, but unlike other artists, geishas' names aren't part of a public record of lineal transmission. Unlike other artists, geisha also don't take their lineage's entire name. They take one element of it--so Ichiko sponsors Ichimame, who sponsors Ichifuda, who sponsors Ichikatsu. There's an interesting tension between the pure, intellectual tradition of artistic transmission, and the need for the resulting name to be hot.
(Fortunately, the Japanese idea of a hot name is pretty flexible.)
That's the intellectual side of the obsession. The other side of my obsession is that geisha names are:


Difficult to come by in any number. You have to winkle them out one at a time from photo sets, forum threads, old history books.


Multi-layered. First you get the romaji transliteration; then, after much digging, you might get the kanji, which might be the right ones or might be homonyms; and then mmmmmaybe, if you dig long and hard enough, you might possibly be able to approximate something that isn't horribly unlike the Japanese meaning. ("Tsuneko" is crane + child. Is that what it means? Yes. But is that what it means? No, it means "one who is as long-lived as the crane.")


Really multi-layered. First I made a list of every geisha name I could find, including names from Memoir of a Geisha. Just having the sample names was enough for me. Comments on a geisha admirers' forum made me aware that my chosen method of compiling a list was, in academic terms, crap. I started compiling names from more reputable sources, which made me realize how much names had changed across time; so I went back and recorded the source of each name and the period it came from. Soon I had to find a way to indicate alternate spellings for different periods. That's where I stand now. A couple of days ago I found a list of names of modern Tokyo geisha, which were different from Kyoto names. Oh, bugger. The next logical step would be to separate names by hanamachi, which are known for different styles of geisha and would presumably have different styles of geimei. After that comes tracking names by lineage and okiya. What about the different types of geisha--the ones who specialize in dance and are the best-known, versus the ones who specialize in musical instruments and may not make any lists because they don't have enough fans to take note? What about geisha from outside the official hanamachi, the "hot springs" geisha who may or may not have the artistic training that separates a geisha from a hostess or a prostitute? How far down the rabbit hole do you need to go to understand the subject? How far down the rabbit hole will readers follow you?


Infinite. In the heyday, there were 80,000 geisha in Kyoto alone. 80,000, my friends. A lot of them shared names, but that's still more than the ~800 names I'm aware of. Now multiply that by the number of generations of geisha, and take into account the average geisha's short working life. Finite but unknowably huge numbers are, for all practical purposes, infinite. When do you decide to stop hunting for names? When you've exhausted all available resources? When you've exhausted all easily reachable resources? When you're just plain exhausted?*


Researching geisha names is like playing a game, one designed around the principle of intermittent reinforcement, with winning conditions that appear to be reachable but contain a high percentage of cake. In short, it's crack.
The best and worst part is that I'm playing against myself. The best, because despite the level of interest in geisha names among geisha fans and roleplayers, there's only one dedicated list online, and that's mine. Anything I do to improve that list is a win. I could post it right now, with all the question marks in place of missing kanji, the unsourced names, and the notes to myself, and it would still be a 500% improvement upon the best English-language page now in existence. And the worst, because my old page has been leaking bad information across the web for years, and it's propagated so far that now I can't find sources for some of my more questionable assertions because all locatable sources lead back to
my ass
.
Having the power to corrupt the knowledge pool would be more fun if bad data wasn't my pet peeve.
(Small pond, big fish.)
(Tiny puddle, fat guppy.)
Anyway, that's why I haven't posted for a while. Been busy with 13th-century French garb, and learning to spin, and geisha names.
* Bet on this one.
My latest obsession is... geisha names. When a girl becomes an apprentice geisha, she receives a

I am trying to get a non-molestation order against my abusive husband. I have been told it will cost upwards of £1000. I am also trying to divorce him, but he is contesting the divorce, refusing to take responsibility for his behaviour. On top of this we are in the middle of messy court proceedings regarding his access to the children. I don't know what it will end up costing, but I know we can't afford it (legal aid can't help). If you can spare anything at all we would really appreciate it. Thankyou x

http://www.gofundme.com/38ujs8
The site lists donations in pounds, but will automatically convert from other currencies.
They're up to 787 pounds. Every little bit helps--please give! And if you can't give, then repost, retweet, get the word out.
Help Elodie Pearce get a non-molestation order (a domestic abuse-specific form of restraining order) against her husband:


Fabric is a material of known dimensions;
Which can be accurately cut to specified dimensions;
And sewn together in a specified manner;
To create an object of known dimensions.

All of which is untrue, in my experience. But my experience is informed by a habit of shortcuts, half-measures, and other fallout from living in a personal short attention span theater. When I realized the assumptions underlying my Conan the Cimmerian-like approach to sewing--about two weeks ago--I took steps to fix matters. More hand sewing, to force myself to slow down and align fabric properly. A lighter foot on the sewing machine pedal. More frequent and careful ironing. Investing in a cutting mat, rotary cutter, and cheap yardstick. (Holy hell, did that make a huge difference. Moving from scissors to rotary cutter was like gaining 3 levels in Seamstress.)

So last night, I set out to make a muffin cap. I measured my head, then measured another cap of mine for comparison; wrote down the exact dimensions plus seam allowance; squared off the fabric; cut out the brim exactly to spec; cut the top of the cap using my biggest plate as a pattern; ironed the brim flat, then ironed in the creases; sewed the ends of the brim together; ironed the seam; and spent an hour marking the top and pinning it into the brim. Then I machine-sewed it to the front of the brim, folded the brim under, and whipstitched the inner edge of the brim down. And then I put the finished cap on.

It was too small.

All the dimensions are correct. Fabric cut to specified dimensions, sewn together correctly to create a cap of expected dimensions, which is nevertheless too small. I measured it and myself again. There is no reason the cap should perch atop my head like 15 grams of canary on a 50-gram perch. But it does.

Clearly there are tailoring mysteries yet unplumbed.

It's a lovely cap, though.
One of the great obstacles to my mastering costuming skills is that sewing instructions assume that: